WEATHER
Bryce Canyon's climate is often described as the unique combination of mountain and desert environments. This means that not only can almost any kind of weather happen (such as thunder and lightning snow storms), but it can change very rapidly.
Please use the weather table below to better plan your vacation to Bryce Canyon National Park.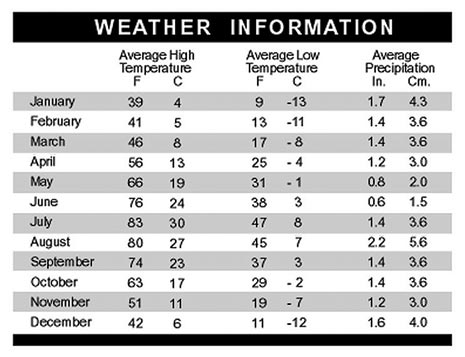 HIKING
Hiking is the most popular activity at Bryce Canyon. Hiking trails range from an easy 1/2 mile loop rim trail to an 23 mile beneath the rim which features backcountry campsites.
Keep in mind that all trails below the rim involve steep climbs out of the canyon. Wear hiking boots with good traction and ankle support. Drink plenty of water. Know and respect your own physical limitations.
The Under-the-Rim Trail extends 23 miles from Bryce Point to Rainbow Point and has eight backcountry campsites. The Riggs Spring Loop Trail (8.8 miles round trip) from Yovimpa Point has four backcountry sites. Both trails drop below the rim of the plateau and lead through forested areas. A backcountry permit is required for all overnight hiking. Permits are available at the Visitor Center for $5.
Permits must be obtained in person and are issued at the park visitor center from 8:00 a.m. until two hours before sunset or one hour before the Visitor Center closes. No phone or email reservations will be accepted. In person reservation can be made up to 48 hrs. in advance. Park staff reserves the right to refuse permits to parties that fail to demonstrate the necessary preparedness that Bryce Canyon's high and dry backcountry demands.
Bryce Canyon's backcountry is a primitive area and managed according to regulations that protect its wilderness values. Backcountry camping is allowed on a limited basis and ONLY at designated campsites.
NOTE: PETS ARE NOT ALLOWED ON PARK TRAILS OR AT VIEW POINTS. However pets CAN BE WALKED along roads, in campgrounds, and parking lots, BUT MUST BE ON A LEASH AT ALL TIMES.
For more information on hiking in the Park, visit the National Park Service site.

CAMPING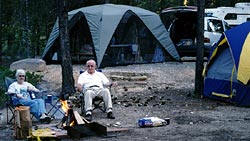 Bryce Canyon National Park has two campgrounds located in close proximity to the Visitor Center, Bryce Canyon Lodge and the geologic wonder that is the Bryce Amphitheater. Both have restrooms with flush toilets, and drinking water. During the summer months token operated laundry and shower facilities are available at the general store nearby. A fee-for-use dump-station is available for RV users at the south end of North Campground. NOTE: Dump-station is closed during winter because of freezing temperatures.
Both campgrounds have a very similar appearance being located in Ponderosa Pine forest habitat with equal amounts of shade and sun. Neither campground has hook-ups, but a fee-for-use sanitary dump station is available seasonally near North Campground. All sites are limited to 6 people, 3 tents and 2 vehicles and cost $10 per night.