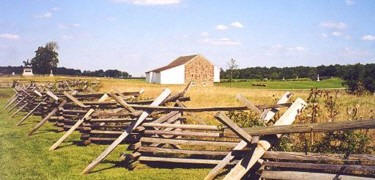 Park grounds and roads open daily, 6:00 a.m. to 10:00 p.m. Visitor Center open daily, 8:00 a.m. to 5:00 p.m. (Summer hours- 8:00 a.m.to 6:00 p.m. daily.) Cyclorama Center open daily, 9:00 a.m. to 5:00 p.m. Buildings are closed Thanksgiving, Christmas, & New Years. The Soldiers' National Cemetery is open at dawn and closes at sunset.
Getting There


Plane -- Harrisburg International Airport at Middletown, Pennsylvania, is the closest air terminal, approximately 35 miles north of Gettysburg. The second closest is Baltimore-Washington International near Baltimore, Maryland. Gettysburg has a small airfield on Route 30 west for private aircraft.


Car -- Gettysburg National Military Park is located in Adams County, Pennsylvania. From North and South, follow US 15 to Gettysburg and watch for signs to direct you to the National Park Service Visitor Center. The visitor center is located between Taneytown Road (State Rt. 134) and Steinwehr Avenue (Bus. Rt. 15). From East and West, drive into Gettysburg on US Rt. 30, turn South on Baltimore Street (Rt. 97), and follow signs to Steinwehr Avenue (Bus. 15).


Bus -- There is no commercial bus service into Gettysburg at this time.


Public Transportation -- There is no public transportation system in Gettysburg at this time.

Getting Around


Self guided auto tour route maps are available at the Visitor Center and Cyclorama Center information desks. The park also offers a Licensed Battlefield Guide Service for private battlefield tours in your own vehicle or with a guide on a tour bus (seasonally offered). Commercial bus tours of the park are available through companies near the park. A wide variety of interpretive programs are offered April through October, but the core season for programs is mid-June through mid-August. Subjects include the three days of battle, the National Cemetery, the Gettysburg Address, and general Civil War related topics. There are walking tours, bicycle tours, campfire programs, and living history demonstrations. There are also programs designed specifically for student groups. Call (717) 334-1124 for further information.
Touring the Park
The park contains more than 26 miles of paved roads, open for touring by private vehicle. Park visitors should begin their tour at the National Park Service Visitor Center. Visitors may tour the park on their own with the use of a self-guiding park map, hire a Licensed Battlefield Guide for a personal touch, or use one of the commercially available audio tours:
Self-Guided Tour: The Gettysburg National Military Park Brochure is available at the National Park Service Visitor Center or at the Cyclorama Center at the park. The brochure has a tour map of the park, brief description of the battle and a brief history of the park. The map coincides with park tour route signs and wayside exhibits so that you can take a self-guided tour, one stop at a time. Audio programs are available at specified stops. The length of the tour is at your own pace but plan to spend at least 2 hours on the field. FREE-one brochure per family, please.
Licensed Battlefield Guide Service: Battlefield Guides are available to give you or your group a personal tour of the park in the comfort of your own vehicle. Widely known for their knowledge and courtesy, the guides are self-employed ladies and gentlemen tested and licensed by the National Park Service. Your guide can customize a tour to your special needs and desires. Tours last two hours in length. The guides are assigned to personal vehicles from the Visitor Center desk on a first come, first served basis beginning at 8:00 AM each day. For those visitors without vehicles, a bus tour of the battlefield with a guide on board leaves from the NPS Visitor Center twice daily beginning March 25, through April 8, three times daily (9:30, 12:30 and 2:30) from April 9 through June 10, and six times daily (9:30, 11:00, 12:30, 1:30, 2:30, and 4:00) beginning June 11 through the summer months. Guides may be reserved in advance for organized bus groups by calling (717) 334-4474, toll free at 1-877-438-8929, or (717) 334-1124 ext. 439.